DTU and the 2015 Book Festival at the Tran Phu High School
On April 23rd, Tran Phu High School held a 2015 Book and Cuisine Festival on the occasion of "World Book and Copyright Day", to encourage young people to read more books. The DTU booth, introducing new, interesting and high-quality publications caught the attention of a large number of visitors.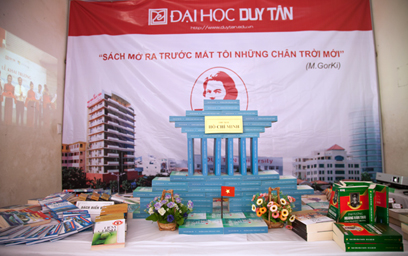 The DTU booth
Mr. Le Vinh, Headmaster of Tran Phu High School, said: "Books play an important role in our lives. Books are an essential requirement for us all. With the rapid development of science and technology, television and the internet, the number of readers decreases day by day. However, books have always been a passion of many. The teachers and pupils of Tran Phu High school have spent a lot of time reading books over the years. This event honors the culture of reading and will increase the awareness of students about the necessity of reading."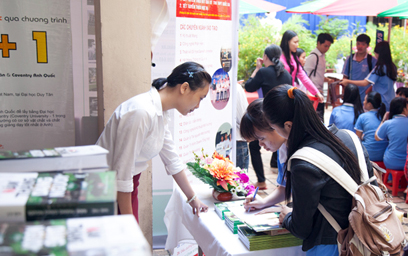 Pupils visit the DTU booth
The DTU booth offered many high-quality publications on various topics. On the "Dap Loi Song Nui" bookcase were the memoires of Distinguished Teacher Le Cong Co, the DTU President and Provost. They are entitled "Nam thang dang Nguoi", "Khat vong Duy Tân", "Nhung chan troi khat vong", "Dai hoc Duy Tan rang ngoi net dep nhan van" and so on. Many books about society and art were shown, such as "Nghe thuat noi chuyen truoc dam dong", "Bi quyet nang cao ky nang viet " and "Cac nen van minh the gioi". There were several specialized books published by DTU in collaboration with other publications, such as "Hoa hoc hien dai, mot cach tiep can phan tu" and "Co hoc luu chat va cac ung dung ky thuat".
Ms. Tran Thi Thuy Kieu, Director of the DTU Library, said:
"M. Gorki said: 'Books open new horizon to my eyes', as a slogan to develop the reading culture for students. DTU has introduced many types of books for study and research. To improve the quality of education and investment in facilities, DTU has developed a library with thousands of books. DTU has also implemented an e-Library at http://elib.dtu.edu.vn. The library is making good contribution to improving the quality of education by providing lecturers and students books to read."
At the event, DTU awarded Tran Phu High school a set of books in "Ðap loi song nui" bookcase in the hope that the teachers and pupils will learn more about the Vietnamese courage in the wars and promote reading to integrate with the rest of the world.
(Media Center)