Ten Years of Health Sciences at DTU
On October 25, DTU and the Hue Central Hospital jointly held a conference marking the 10th anniversary of Health Sciences education at the university.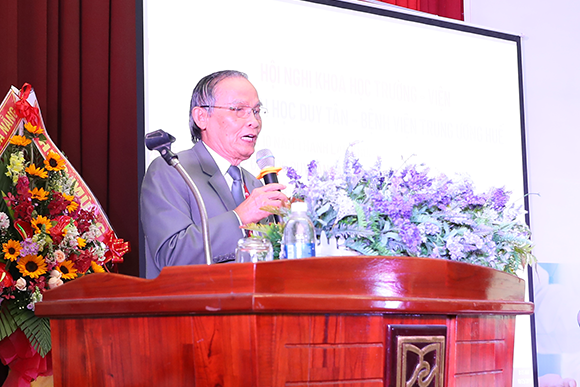 Distinguished Teacher and Hero of Labor Le Cong Co, DTU Chairman, speaks. Photo: N.T.B
The Ministry of Health highly recognizes the evolution of Health Sciences at DTU, one of the four key disciplines of the university. Hue Central Hospital is its main internship partner, in addition to the Danang C Hospital and the Ministry of Public Security 199 Hospital, as well as contributions from other hospitals and health organizations in Danang and Quang Nam.
Over the past ten years, much experience has been gained from advances in healthcare in Vietnam, Asia and elsewhere, leading to rapid developments in teaching expertise, facilities, equipment, international partnerships and the hiring of the 1,200 staff.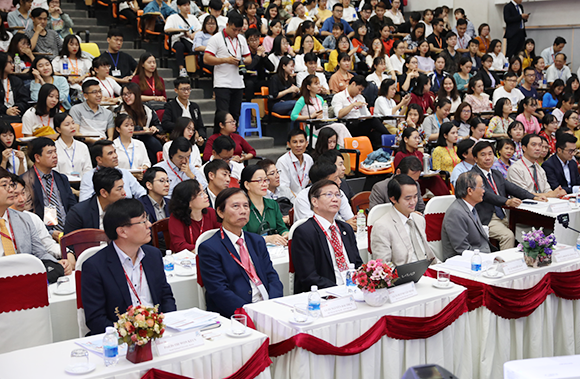 500 representatives attend the conference. Photo: N.T.B
DTU now offers Bachelor and Master of Science degrees in Nursing, in collaboration with Fooyin University in Taiwan, a Bachelor of Pharmacology, a Master of Pharmacology Management, General Practitioner and Odonto-Stomatology courses, studied concurrently with other subjects. One hundred research projects have been completed and ten of them published internationally.
Health Sciences now employs 226 lecturers, including 50 PhDs and Professors, or 24.51% of the total. 2,636 students have already graduated, 4,242 are still studying. In addition, there are currently 78 postgraduate students in Pharmacology and Nursing, all of whom are a huge asset in helping DTU provide the necessary healthcare resources to meet demand locally and across the nation.
(Media Center)