DTU Runner-Up at 2019 ASEAN YMAC Youth Conference
Nguyen Ngoc Le Tram and her team surpassed contestants from other ASEAN countries and China to win second prize at the 2019 Youth Model ASEAN Conference (YMAC), with a quality project of real value that can be adopted to improve education.
The DTU team left a strong impression, with their concern of increasing individual responsibility for community development and their self-confidence, broad knowledge and convincing, fluent debating skills.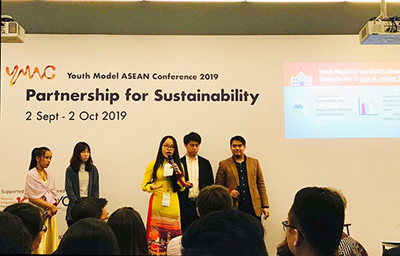 Nguyen Ngoc Le Tram (in ao dai) presents her project and addresses objections from the jury
The annual YMAC is attended by increasing numbers of students every year. This year, the topic was "Joining hands for a sustainable development", now a popular subject in debates worldwide. In 2019, participants were initially required to complete an essay, to assess their knowledge and language ability. DTU was the only entry from Vietnam and the conference took place from September 29 to October 2, at Singapore Polytechnic, with all airfares, meals and lodging expenses paid by the sponsors.
The one hundred students from Vietnam, the Philippines, Malaysia, Singapore and China who made it through the first round then convened to discuss current vital issues, such as our cultures, sociology, economics, the environment and their proposed solutions and initiatives to deal with them. The contestants were divided into twenty teams of five to debate 4 of the 17 sustainable development goals that the United Nations has set for ASEAN countries by 2030:
-
Reduced social inequality
-
Responsible production and consumption
-
Good health and well-being
Nguyen Ngoc Le Tram's English fluency gave her team a significant advantage. Their project was entitled "Solutions to increase teacher skills and quality of education in Cambodia", concerning the quality education goal. The team discovered that education in Cambodia was low quality, particularly in Siem Reap. The team encouraged ASEAN scholars, retired teachers and volunteers to go on field trips to Cambodia to investigate. Based on their findings, the teachers will design new curricula and create online training programs. To do this, the team plans to advertise and recruit sponsors from ASEAN NGOs in Singapore, Malaysia and Indonesia, as well as business and patrons of the arts and literature.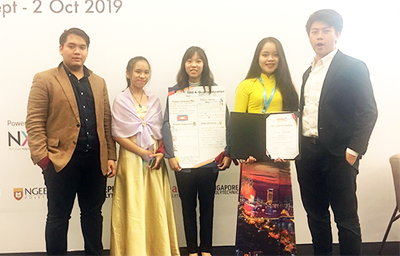 Nguyen Ngoc Le Tram (second from right) with her team, runners-up at YMAC 2019
The jury highly appreciated the DTU project for its creativity and for its feasibility in Cambodia and awarded them second prize. Of the 20 finalists, only the champions and runners-up received prizes.
"Improving educational quality is vital, not only in Cambodia but all over the world," explained during her presentation and defense of the project. "This is the key to improving the professional skills of teachers and comprehensively training the student body, in order to accelerate the development of Cambodian education. Our project is vital to help close the gap and create parity between various educational levels throughout ASEAN.
"At first, we were concerned that this was a big project with wide scope, requiring us to be active, skillful, and communicate well in seeking the support of teachers and other organizations. If students from other countries share our enthusiasm and unite for the same goal, to create a better society, it will boost our confidence even further. DTU students always dedicate themselves to YMAC projects, because of the disciplined study methods at DTU, our extracurricular activities, contests to improve our English and social activities, which broaden our experience. I thank DTU for offering me this unique opportunity to share information and learn from my peers abroad. I am proud to contribute to a better society."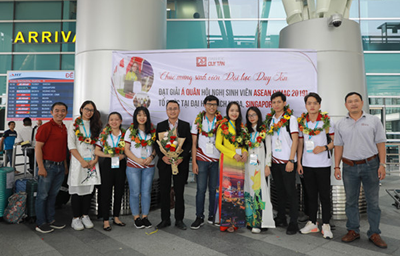 Mr. Bui Duc Anh (fifth from the left), mentor to the DTU team, receives flowers at Danang airport
Mr. Bui Duc Anh, the head of the Talent Program and the DTU Debating Club, offered the following advice to the YMAC 2019 team. "It is a contest, but the students should not only focus on competing," he explained. "Teams should work closely together to concentrate on finding solutions to overcome various outstanding issues. The participants should be fully aware that it is their responsibility to bring communities together to work miracles all over the world. Our DTU team was confident, positive, knowledgeable, with excellent English debating skills."
(Media Center)