DTU Comes Second at the 2019 Vietnam Hackathon AI Grand Challenge
The DTU-CSE team demonstrated their creative capabilities and captured second prize at the regional 2019 Vietnam Hackathon AI Grand Challenge, a high-level technology competition, held at DTU from July 5 to 7.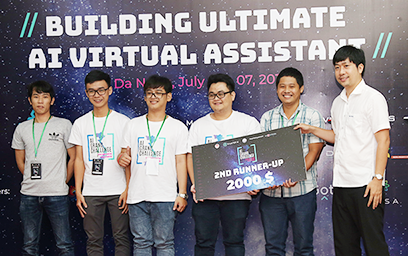 Mr. Nguyen Phong Son awards the DTU¬CSE second prize
The DTU-CSE team is now concentrating on preparing for the final round, together with one first and two third-prize winners from renowned software companies, which takes place on August 15 in Hanoi.
The competition is organized by the Ministries of Science and Technology and Planning and Investment partnering with the VnExpress newspaper, VietAI, McKinsey and the Vietnam Innovation Network. Students, lecturers and engineers from universities and companies nationwide compete for a place in the finals.
After an initial online selection process, fourteen teams with seventy contestants from cities all over the country competed, from Can Tho, Quy Nhon, Hanoi, Danang and Hue, including FPT University, the Danang University of Science and Technology, software companies and freelance IT professionals. Three teams from southern Vietnam had already proceeded to the finals at the end of June, but no first prize was awarded. Tobtob came second and Baby Shark and Code for Food, both came third.
The DTU teams propose ideas and programs using a virtual AI technology assistant, with high applicability in fields such as:
On the last day, teams each made two product presentations and the jury selected the seven best for the next Exposition and Product Presentation rounds.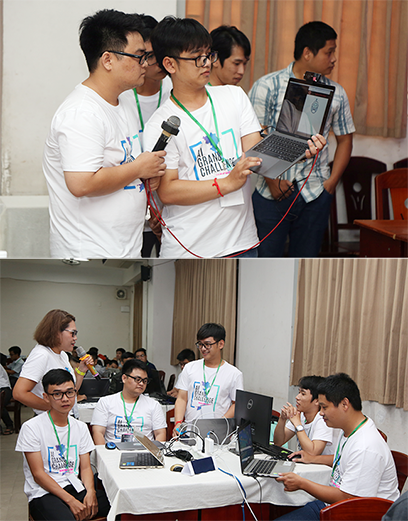 The DTU-CSE team presents
The jury consisted of four technology experts:
•
Mr. Nguyen Phong Son, Danang Branch Director of the Orient Software Development Corporation, one of the leading international outsourcing companies in Vietnam.
•
Mr. Dang Nam Hai, Technical Product Manager at Kambria and OhmniLabs, with ten years of experience in the development of innovative and creative products.
•
Mr. Nguyen Tuan Minh, Head of Natural Language Processing at the Defide Company, which develops commercial Japanese language chatbots.
•
Mr. Nguyen Duy Anh, AI researcher in deep learning at the Cinnamon AI Lab in Japan, who previously worked as research assistant for the NeuralNetwork research lab at RMIT in Sidney and research engineer for eSilicon in the USA in statistics and machine learning.
The DTU-CSE team, from the DTU Center for Software Engineering, convincingly present their product "A chatbot to serve retail chain customers", winning a second prize, which combines three systems:
•
Customer identification
•
Voice communication with customers
•
Product identification based on user voice input
This software allows businesses to distinguish one-time customers from regular ones and makes suggestions based on their buying habits, pinpointing their requirements, recording their opinions, taking orders and recording transactional data.
"Our participation in the 2019 Vietnam Hackathon AI Grand Challenge allowed us to challenge ourselves and experience a more exciting and practical work environment." said Mr. Le Hoan Nhi, on behalf of the DTU-CSE team. "In just forty hours, we went from programming each component of the system to integrating them into the completed product. We then had to write the product description but our time was limited, so we had to carefully plan specific tasks for each member of the team, in order to finish on schedule."
Prizes were awarded to the four winners:
•
Father Life and Hydra: both third
Immediately after the Central Region round, the Northern Region round was held from July 12 to 14 at the National Economics University in Hanoi, where it was determined that ten teams would compete in the national finals on August 15:
•
Southern Vietnam: Tobtob, second prize, Baby Shark and Code For Food, both third
•
Central Vietnam: Tech Fam, first, DTU-CSE, second, Father Life and Hydra, both third
•
Northern Vietnam: YoungRGD, first prize, Ftech, second and Voicebot, third
The winning teams will take part in a two-month training and project incubation program and receive:
•
$10,000 for the winners
•
$4,000 for the first runner-up
•
$2,000 for the second runner-up
The winning teams will all work with well-known companies to continue developing their projects, leading to excellent career prospects.
MAJOR

TUITION PER TERM

Ordinary programs (except Pharmacy and Medical Doctor)

8.8 million

Advanced and international programs

from 9.6 million to 12.6 million

Talent programs (20% off throughout studies)

8.8 million

On-Site Study-Abroad programs with US degree

29.3 million

Overseas linking programs (US, UK, Canada)

20 million

Programs of Vietnam–Japan collaboration

10.3 million

*Note: there are two terms per year
(Media Center)