The Vietnam-Japan Institute of Engineering and Technology Founded at DTU
On September 24, DTU held a ceremony to celebrate the inauguration of the Vietnam-Japan Institute of Engineering and Technology (VJIET), as part of an agreement with the Kanazawa Institute of Technology (KIT) in Japan. In attendance were KIT Provost Professor. Satoshi Osawa; Mr. Tsukasaki Yuichi, Director & CEO of Konnichiwa-Nihongo Co., Ltd; Hero of Labor, Distinguished Teacher Le Cong Co, DTU President; Dr. Le Nguyen Bao, DTU Provost; and a large number of DTU lecturers and students.
Distinguished Teacher Le Cong Co, DTU President, said: "Vietnam is now entering the Industrial Revolution 4.0, and today's collaboration brings many encouraging opportunities to help prepare a workforce to meet the new international requirements. By partnering with Japanese universities and businesses, we can adapt to their advanced educational programs and modern management techniques and apply them in Vietnam. We believe that, with efforts from us both, we can work together harmoniously to blend Vietnamese humanitarianism and traditions with Japanese spirit and culture, and educate a skilled workforce that meets the new demands. These professionals will contribute to the development of Central Vietnam and elsewhere and, meanwhile, meet the recruitment requirements of local Japanese affiliates."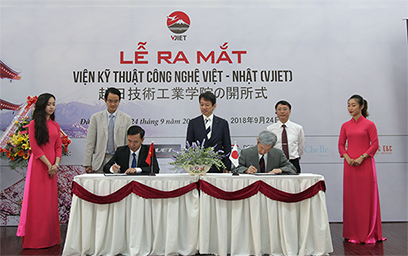 DTU (on the left) signs the agreement with KIT and Konnichiwa-Nihongo Co., Ltd
DTU has an excellent network of international partners, especially in the US which broadens study opportunities for its students. DTU realized that the application of advanced Japanese educational technology will meet local needs, in addition to potential future partnerships within the network of local Japanese companies, also greatly benefiting DTU students.
Located in Nonoischi city in Ishikawa, KIT is one of the top 10 universities in Japan, offering an international standard education in technology and engineering, and is also the first Japanese university to join the CDIO Initiative in 2011. KIT features Project Design education, in which students identify and solve problems in teams. In particular, the PD protocol is considered to be a major strength of KIT and has brought the university much prestige because of its effectiveness. KIT is now ranked second among Japanese universities, with 98.7% of graduates gaining immediate employment. DTU and KIT will plan:
(1) lecturer, staff and exchanges;
(2) student exchanges;
(3) joint educational and research activities;
(4) educational methodology and cultural exchanges;
(5) the adoption of the Project Design (PD) educational methodology, in addition to other related activities.
Professor. Satoshi Osawa, KIT Provost, said: "KIT always abides by the principle of education which concentrates on the creation of basic core values. Based on the motto "Students are Central", we aim to graduate virtuous citizens with respectable life-time ambitions. KIT also emphasizes team-work and other group activities, and encourage student creativity, allowing them to dynamically decide what is in the best interests of the community."
In conjunction with the KIT collaboration, DTU also signed an agreement with Konnichiwa-Nihongo (KNC) Kobe Co., Ltd to:
(1) develop a unique Japanese language program, different from others, aimed at DTU undergraduates and postgraduates;
(2) a trial VJIET training project, known as "Pilot No. 2", will take place at DTU for 3 months;
(3) encourage the study of Japanese integrated into the work environment, in addition to several other related activities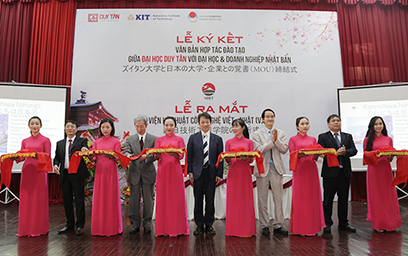 The VJIET founded
Dr. Le Vinh An, Dean of the DTU Faculty of Architecture, was appointed Director of VJIET. KIT is a VJIET cofounder.
VJIET has been founded in Central Vietnam as a counterpart of a typical Japanese university. The Institute's objective is to transfer advanced educational technology from Japan, enroll students and provide business with professional, highly-qualified graduates and postgraduates. It will focus primarily on Japanese companies currently operating in Vietnam.
DTU students will be able to intern from one to three-months in Japanese companies here; Japanese language classes will allow students to study to the N3 (university) and N2 (postgraduate) levels. As a result, students will experience dynamic, innovative and efficient work environments and train to acquire top management skills.
On graduation, when they have successfully completed their studies, internships and work programs, they will be guaranteed full employment at Japanese companies. In addition, they may be eligible to study abroad, to broaden their understanding of Japanese culture and to extend ties with Japanese partners there.
VJIET will begin operations with one office and four centers, focusing on Japanese language courses, Project Design (PD), business relations and other specialized training.
(Media Center)