Applicant Scoring 27/30 Will Study Business Administration at DTU
Le Van Duc is from the Dakrong district of Quang Tri province and was encouraged to score high points in the High School graduation exam when he first heard about the DTU On-Site Study-Abroad program, developed in partnership with Keuka University in the USA. Duc then applied and, on the first day of the semester, received a full scholarship to study Business Administration.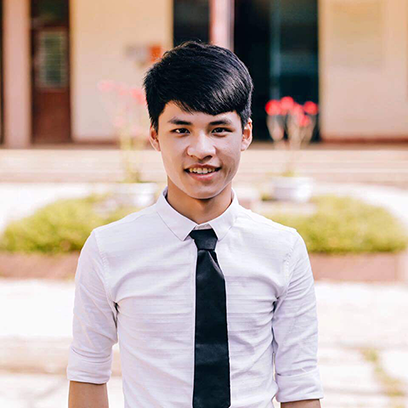 Le Van Duc
Studying to assist his needy family
In his three years as a senior, Van Duc changed schools so often that his friends teased him that he would be expelled. On the contrary, because of his impressive accomplishments, Van Duc was transferred into Grade 12 at the Le Quy Don High School for the Gifted in Quang Tri province. After one semester, he returned to the Dakrong High School, where he learned more and shared his ambitions with his best friends and teachers. Van Duc said: "Schools for the gifted and normal schools both provide the necessary preparation for the High School graduation exam. They both have their own unique educational strengths. Conscientious students and dedicated teachers can work together to create the ideal learning environment for success."
Van Duc's score reflected that. He had also scored 9.25 in History and, as an outstanding student, and won major awards in high school. In grade 11, Van Duc participated in the local Outstanding Student contest for Grade 12 students, won first prize in History and later came second in the same Grade 11 contest. In grade 12, he won a consolation prize in History in the National Outstanding Student competition.
Van Duc discussed study tips and said: "At high school, my History teacher gave me a book entitled "Bup sen xanh", about President Ho Chi Minh's youth and his determination to save the country, no matter how difficult that might have been. This book had a huge impact on me and made me aware of the qualities of patriotism, determination and responsibility that Uncle Ho handed down to us from wartime.
Since then, I learned more about the Resistance and admired the heroic sacrifices that were made. My passion for History probably began at that time. I also love Literature, learning how to write, analyze a topic and dig for more information. The emotions of the author spark creativity. I believe that students should learn not only from textbooks, but also from reference works, newspapers, television and other sources. It is vital to practice thinking, writing and speaking skills regularly to make the learning process more effective."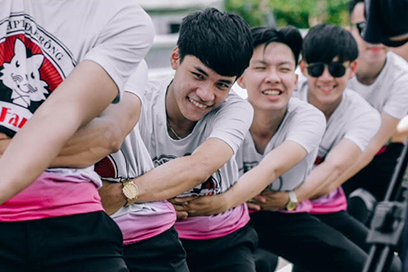 Le Van Duc, in the middle, with colleagues
However, the real motivation came from his family. Van Duc's father passed away when he was very young and his mother raised six children alone. Van Duc was always aware of her difficulties and urged himself to study harder and harder to make his mother proud of him and contribute to the family finances. Van Duc finally surpassed her expectations and she no longer needs to worry about his education fees.
He wants to help
Ho Chi Minh's 'Bup sen xanh' book has had a great influence on Van Duc. Since reading it, he has always wanted to help improve people's lives. By studying Business Administration at DTU, Van Duc hopes to contribute to the development of Vietnam, promote economic growth and ease the financial burden of underprivileged people.
Van Duc carefully researched various other opportunities before enrolling at DTU: "I knew about DTU through my friends and senior students. I started looking for further information on the internet, in Facebook and from consultants. I was very impressed by DTU's continuing strategy to create the best possible learning environment. In addition to studying with highly experienced lecturers, DTU organizes several extracurricular activities to develop our soft skills. I found that the major of Business Administration has much in common with my personal interests. The diverse nature of the program provides a truly international environment where I can practice my English every day. This convinced me to finally choose DTU".
Van Duc explained: "I used to have other dreams but reality stepped in and taught me many new things. Now I sincerely believe that no doors will be closed on a young person with ambition, determination and compassion. The road to university can be quite challenging, but it suited me and now I am also ready to fight to succeed like Uncle Ho. Right now, DTU fulfills all my needs".
(Media Center)