Second Degree, Vocation, eUniversity
Entrance Exam Waived for DTU Second Bachelor's Degree Programs
Gaining a second Bachelor's degree can broaden career opportunities for certain students who already hold a previous degree. Due to increasing demand, DTU continues to successfully enroll excellent students into this special program.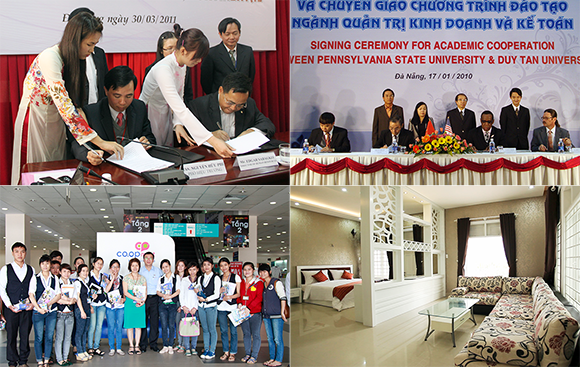 DTU partners with many other universities and businesses worldwide
DTU is the first and largest private, multi-level, multi-discipline university in the Central Region. Programs offered at DTU include Doctorate, Graduate, Undergraduate and Associate Bachelor's Degrees, Vocational and Transfer programs and eLearning courses. By adding Second Bachelor's Degree programs, DTU now encourages full-time senior students and graduates nationwide, with average results and above, to study for a double major.
In 2016, DTU continues to expand enrollment in Second Degree programs for students in General Business Administration, Hospitality Management and Finance, Banking, Corporate Finance, Accounting and Auditing, expanding career opportunities for graduates as Tourism has become a major industry throughout the Central Region.
Students of the Second Degree Courses at DTU learn using advanced curricula shared with Pennsylvania State University, PSU, one of the five top universities in Hospitality and Tourism, Business Administration, Accounting and Finance and Banking in the USA. Students study using the PBL (Problem-Based Learning/Project-Based Learning), teaching method in Economic Management, Health Sciences and Humanities & Social Science.
One of the advantages of taking the DTU Second Degree program is that applicants do not need to take an entrance examination. Courses are scheduled in the evenings from 17.45 to 21.00 and during the daytime on Sundays, so that candidates can work and study at the same time. Using a credit based system, students can choose their preferred subjects and gain 19 credits each semester. The tuition annual fee of 13 million dong, which is normally the price for 16 credits.
November 1st is the enrollment deadline for Second Degree courses and admission procedures run from November 4th to 7th. More information can be found at
http://tuyensinh.duytan.edu.vn
or
http://bang2.duytan.edu.vn
, or come to the DTU Enrolment Center at 254 Nguyen Van Linh, Danang.
Tel.: (0511) 3.650403 - 3.653561 - Fax: (0511) 3.650443
Hotline: 0905.294.390 - 0905.294.391 - 1900.966.900
(Media Center)