Civil Engineering and Pharmacology Win the 2016 Volleyball Tournament
On March 6th, at the Le Quy Don High School stadium in Danang, the 2016 DTU Volleyball tournament ended with two exciting final matches.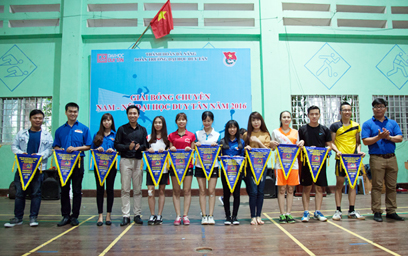 Souvenir Banners are awarded to the winners
Hospitality and Tourism competed with Civil Engineering in the Men's finals. After a gripping match, Civil Engineering prevailed with a score of 3-1.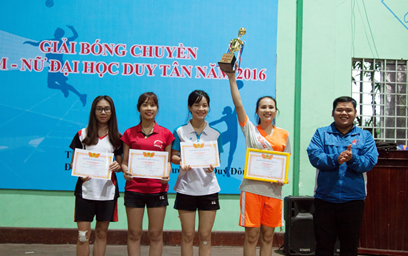 Championship and Merit certificates and prizes go to the Faculty of Pharmacy and other Women's teams
Pharmacology and Humanities played Social Sciences in the Women's finals. They thrilled the spectators with an impressive match. However, Pharmacology overwhelmed their competitors 3-0 to win the championship.
First, second and third Men's prizes were awarded to Civil Engineering, Hospitality and Tourism, and to Electrical Engineering and Business Administration respectively. In the Women's finals, first prize went to Pharmacology, a second to Humanities and Social Science and two third prizes to the International School and Accounting. Finally, Nguyen Thi Thuy An, a lecturer from Faculty of Accounting, was presented with the Miss Volleyball prize. 
(Media Center)