DTU Hosts the 2016 Volley Ball Tournament
Celebrating the 85th founding anniversary of the Ho Chi Minh Communist Youth Union, on March 26th, the DTU Youth Union is hosting the 2016 DTU Volleyball Tournament, at the stadium of Le Quy Don High School for the Gifted in Danang. This is the first volley tournament to be held by DTU, with 23 teams with approximately 300 players competing.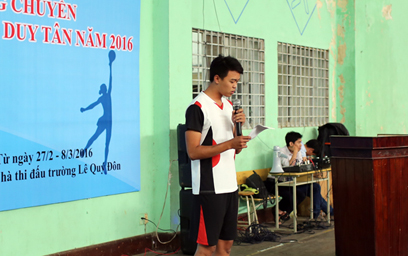 The DTU International School team at the Opening ceremony
The tournament is taking place from February 27th to March 13th. It improves the fitness of the contestants and promotes teamwork and camaraderie between staff, lecturers and students. 
The fourteen men's teams are divided into four qualifying groups and the ten women's teams into three groups. The two winners from each group will continue to the semi-finals and then to the finals.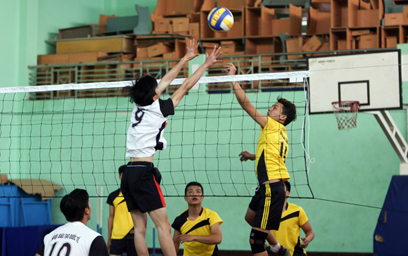 An exciting match between the DTU International School, in white, and Civil Engineering
The first six qualifying matches got off to an exciting and energy-charged start. With their sense of fair play and various skills, like spiking and blocking, teams treated the spectators to attractive and impressive volleyball.
Upcoming matches promise to be equally alluring and dramatic. Enthusiasts can access the DTU Union Facebook to view the latest schedules and to support their teams. The Facebook name is "Ðoàn tru?ng Ð?i h?c Duy Tân".
Results of the Qualifying Round:
NO

Match

Score

1

International School Men's Team 1 - Civil Engineering Men's Team

2 - 1

2

Pharmacology Faculty Men's Team - Tourism & Hospitality Faculty Men's Team

0 - 2

3

Lecturers & Staff Men's Team - Medicine Faculty Men's Team

2 - 0

4

Nursing Faculty Men's Team - Business Administration Faculty Men's Team

0 - 2

5

Accounting Faculty Women's Team - Foreign Languages Faculty Women's Team

2 - 0

6

Pharmacology Faculty Women's Team 1 - Nursing Faculty  

 

2 - 0
(Media Center)