DTU Hosts the 2nd "Go See Do Danang" Photo Exhibition and Awards Ceremony
On January 22nd, DTU hosted the second "Go See Do Danang" Photo Exhibition, entitled "Impressions of Danang", at the Danang Museum, which many local and foreign visitors attended.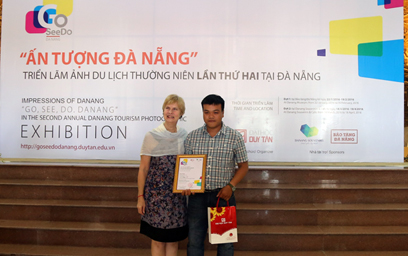 Professor Barbara G. Howell awards a prize to Vo Hoang Vu
The competition aimed to popularize the culture, people and sights of Danang and promote international tourism. 
One of the founders of the "Go See Do Da Nang" photography exhibition is Professor Barbara G. Howell, from the Lorain County Community College, in Elyria, Ohio and currently a visiting professor at DTU. She explained: "Everyone recognizes that Danang is extremely interesting and beautiful, the ideal tourist destination. We called this year's subject "Impressions of Danang" to demonstrate the attractions of this romantic city. The success is due to the dedicated support of Management Board, the teachers of DTU and the Board of Directors of the Danang Museum. Thanks go also to the many teams of photographers. I hope that this annual contest will continue to evolve and will reach the hearts of all those who love art and photography in particular."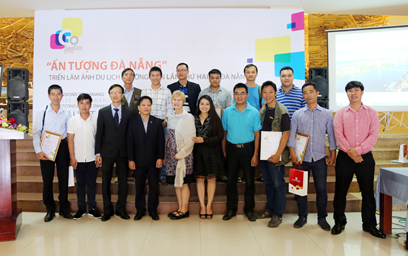 The organizers award certificates to photographers   
More than five hundred photos of Danang were on exhibit. The organizers gave awards for the five best, including a First to Vo Hoang Vu, with "The city in the afternoon sun", a Second to Nguyen Quang, with "Giving hands", a Third to Dinh Nguyen Hoang Long, with "A family of Pygathrix cinerea" and two Consolation prizes to Ngo Van Duc, for "Picking Lotus flowers" and to Le Tho, with "Love for the Han river".
The exhibition will last until April 18th. The photos will be displayed at the Danang Museum from January 22nd to February 18th, and at the Danang Souvenirs coffee shop at 34 Bach Dang Street from March 18th to April 18th. They also will be posted on the official Fanpage "Goseedodanang".  The organizers will give an additional award for the photo receiving the most votes by the end of the exhibition. 
(Media Center)