Workshop on Teaching Methods Improvement for DFL Faculty
On the 13th of September, 2011, a workshop was held for the Faculty of DTU Foreign Languages on "The Improvement of English Language Teaching Methods". Mr. Stuart Vinnie from HACIC in Quy Nhon presented.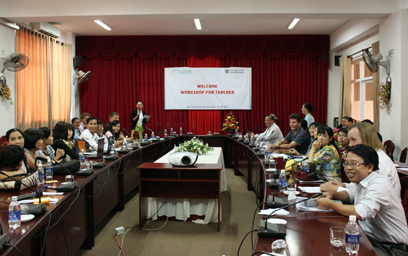 The DFL Faculty in discussion at the workshop
The workshop was divided into three segments, focusing on teaching skills for three different age groups: children, teenagers and adults. During his interesting and entertaining presentation, Mr. Stuart used practical examples to highlight topics such as lesson planning and organization, the use of educational materials, understanding the psychology of the different age groups and so on. Group discussions allowed the participants to exchange ideas and experiences and added to the success of the meeting.
(Media Center)