DTU Partnership Agreement with Silver Shores Resort
On 21st February, 2011, the first Chinese language course was held at DTU for representatives of the Silver Shores Resort.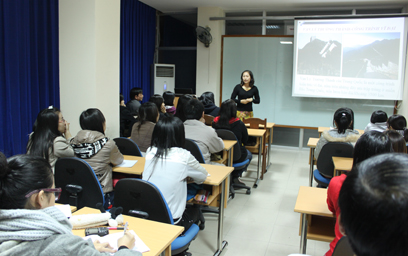 The opening day of the Chinese
Under the terms of the agreement, the DTU English Center has established an elementary Chinese language course for thirty staff of the Silver Shores Resort. In the near future, the Silver Shores Management Board will meet with DTU again to plan extended Chinese study programs.
Qualified DTU students will then have the opportunity to work at the Silver Shores Resort. Mr. Nguyen Manh Quang, the Manager of the DTU English Center, said: "It would be a great advantage for DTU students to learn Chinese and secure good jobs at Silver Shores and other companies".
Silver Shores is an international resort, jointly run by the Silver Shores Company (USA) and the Hoang Dat Company of Vietnam, with a total capital investment of $86m. Located on Bac My An Beach in Danang, Silver Shores is building a five-star hotel with 600 rooms and an International Conference Center.
(Media Center)