DTU Honored with First-Class Labor Order
On November 28th, Duy Tan University held a ceremony to celebrate its 25th anniversary and received a First Class-Labor Order from the State President.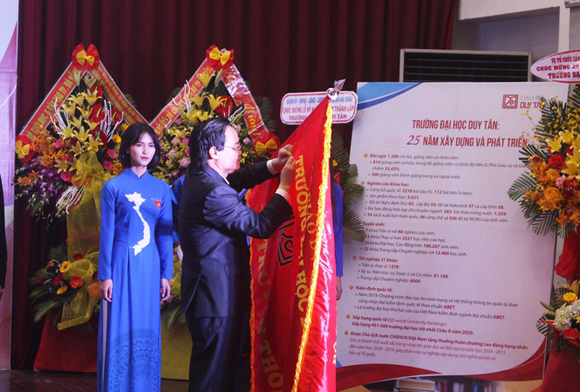 Authorized by the State President, Minister of Education and Training Phung Xuan Nha awarding a First-class Labour Medal to Duy Tan University
DTU was founded on November 11th, 1994 and, in 2015, was converted from a "people-founded" university to a "private" one. DTU's original mission was to: "Focus on education and research, based on the development of a modern-day humanitarian education system". As a result, over the past 25 years, DTU has steadily become one of the most trustworthy universities in Vietnam, by implementing innovative, practical teaching and training methods.
The university has 10 research institutes, 20 faculties and 22 applied research centers, and now offers multi-disciplinary training, including 3 Doctoral, 8 Master and 28 Bachelor degree programs.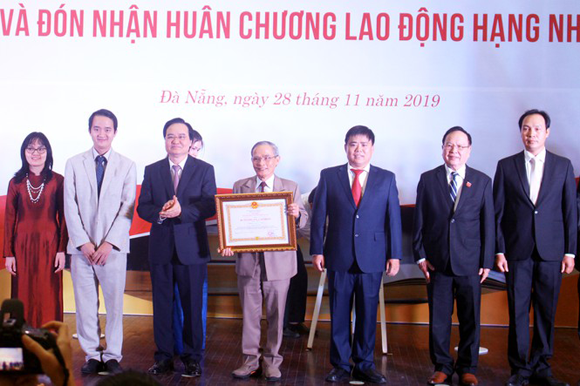 Duy Tan University receiving a First-class Labour Medal
In 2017, DTU was among the first 20 universities nationwide to receive a Certificate of National Educational Quality from the Center for Educational Accreditation of the Association of Vietnamese Universities and Colleges. In 2019, DTU became the second Vietnamese university to offer ABET accredited courses in Network Engineering and Management Information Systems.
In November 2019, DTU became the first private in Vietnam to join the list of the top 500 Asian Universities, according to QS World University Rankings. DTU ranked in the top four Vietnamese research universities in 2018-2019 and was listed in the Nature Index as one of the ten top Vietnamese universities and research institutions, publishing 2,547 ISI-indexed, fundamental Natural Science papers internationally.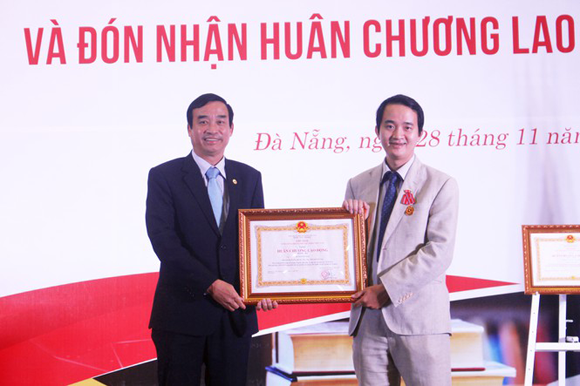 Mr. Le Trung Chinh, Deputy-Chairman of the Danang People's Committee, authorized by the State President, presented a Third-Class Labor Medal to DTU Provost Dr. Le Nguyen Bao.
Previously, DTU had been awarded a Third-Class Labor Medal in 2009, a Second-Class Labor Medal in 2014 and Prime-Ministerial Emulation Banners, in recognition of its significant contributions to Vietnamese education. Distinguished Teacher. Mr. Le Cong Co was named "Hero of Labor" by the Deputy-President, in recognition of his sustained efforts to contribute to the steady development of education in our country.
In his remarks at the event, Mr. Nha praised the significant achievements that DTU has gained over 25 years. He also gave direction concerning the continued growth of the university.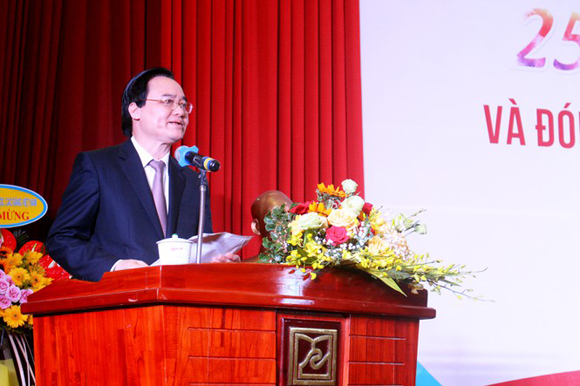 Minister of Education and Training, Mr. Phung Xuan Nha
Mr. Phung Xuan Nha said: "The University must focus on key programs, such as Network Technology, Management Information Systems, Health Sciences, Hospitality & Tourism and others. DTU needs to boost its research and technology and transfer to enhance the quality of education, and collaborate with business to commercialize new products. DTU must also set goals to improve the quality of publications, in order to be better recognized both nationally and internationally."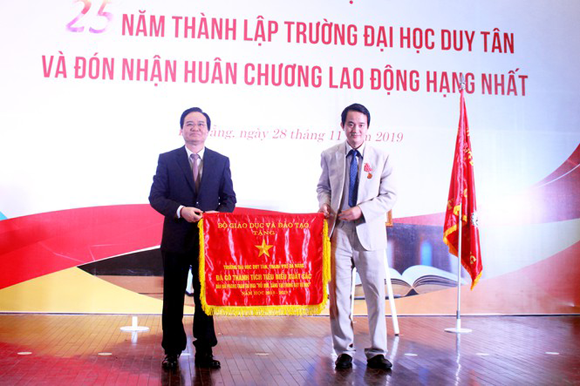 Authorized by the State President, The MOET Minister presents an Emulation Banner to DTU
Authorized by the State President, Minister of Education and Training Phung Xuan Nha awarded a First-class Labour Medal to DTU. Also, Provost of the Duy Tan University Le Nguyen Bao was honoured with the Third-class Labour Medal for his outstanding achievements in education from 2014 to 2019, and for his contribution to the strengthening of socialism and security in Vietnam.
An Emulation Banner was awarded to DTU for achievements in the promotion of education in 2018-2019.
(Media Center)