Blackmagic Design Application Demonstrated at Film-Making Workshop
On August 2nd, DTU and the Silver Swallows Studio held the workshop entitled: "The Blackmagic Design Film-Making Application".  Mr. Ed Tan, a representative of Blackmagic Design Asia; Digital film director Phil Tuckett and producer and cameraman Dan Malloy from Dixie State University in the USA;  Mr. Bui Cong Anh, image and color editor; Mr. Hoang Trung Nam, image director from HCMC; the staff of the Silver Swallows Studio and Graphic Design students attended.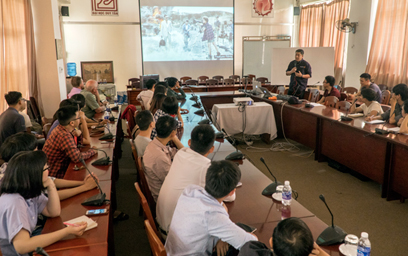 Attendees 
Mr. Tan overviewed the Blackmagic Design Company, one of the world's leading innovators and manufacturers of creative video technology, based in Port Melbourne, Australia. The company designs and manufactures digital movie cameras and develops video-editing software for compositing and other effects and has offices in Europe, Asia and the United States. Blackmagic Design has announced free Davinci Resolve software, the world's most advanced professional editing software for individuals and NGOs who want to produce low-cost films.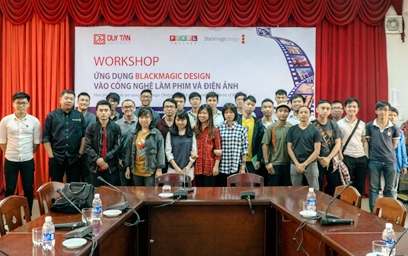 DTU students and cinema industry experts
Mr. Nam and Mr. Anh demonstrated the operation cameras and recording equipment, image and color editing techniques and their experiences in film-making.  
Bui Minh Tri, of class K20ADH said: "I was delighted with today's workshop, which taught me more about film-making to prepare me for my future career. I am sure that DTU will hold more like this one workshops to broaden knowledge and experience" 
(Media Center)