DTU Lecturers Give Presentations on PBL at the 2017 International Symposium in Colombia
From July 3rd to 5th, the National University of Colombia teamed up with Aalborg University as UNESCO representatives of Project-Based Learning or PBL, an active project-based teaching method, to hold the 6th International PBL Research Symposium, considered to be the largest and most important of its kind internationally.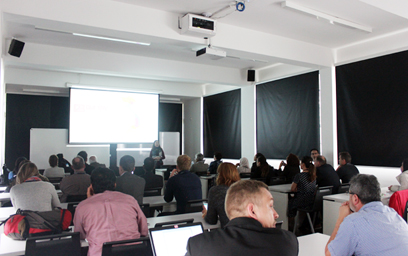 DTU lecturers talk about PBL at the symposium
Two hundred researchers, professionals, technology company representatives and lecturers from well-known institutes and universities worldwide attended, from Singapore, England, the USA, Germany, France, the Netherlands, Denmark, Brazil, Spain, Portugal, Ireland, Peru, Sweden, Finland, Colombia, Malaysia and Vietnam. They debated issues and shared experiences and research findings relating to PBL. These included integrating technology education teaching with PBL, using PBL in business studies, curriculum design and in the management in large groups, in conjunction with ePBL and virtual PBL.
DTU was the only Vietnamese university to participate in the symposium, presenting four research papers about applications of PBL in business, foreign-language education and in the development of games technology. The reports were included: 
1)
Enhancing teamwork in PBL-based courses (My M. Nguyen, Yun-Chin Hsu, and Ha Nhu Hang),
2)
The challenges faced and solved in the implementation of PBL in EFL (English as a Foreign Language) classes (Bui Thi Kim Phung and Nguyen Tan Thang),
3)
Methods of handling large teams in PBL project classes (Nguyen Thi Kim Huong, Hoang Anh Thu, and Luu Thi Thien Huong),
4)
The application of PBL in business education (Nguyen Nhu Hien Hoa, Tran Thi Kim Ngoc, and Tran Luong Kim Dung)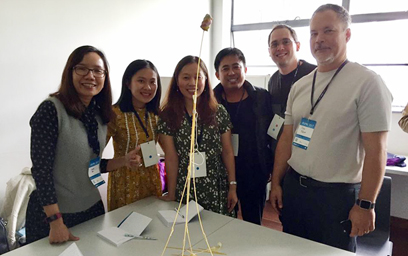 The DTU lecturer with the highest tower
The DTU researchers' presentations drew wide interest at the symposium, thanks to their practicality and the fact that the educational system in South American has many similarities to Vietnam. On the first day of the workshop, the DTU lecturers partnered with two other participants to win first prize in a contest to design the highest, most robust and attractive tower structure, using only dried noodles, duct-tape, rope and sticky candy. 
Recently DTU has been successfully implementing advanced international teaching methods, such as CDIO and PBL. The university regularly sends teams to international conferences and workshops to sharpen their skills in order to improve the overall standard of DTU education. As a result, several DTU students have captured top prizes in national and international science and technology contests. They were champions at the CDIO Academy (in 2013, 2016, and 2017), at Go Green in the City (in 2016 and 2017), at the 2014 IDEERs contest to design earthquake-resistant buildings, and at the Microsoft Imagine Cup (in 2016 and 2017). These wins demonstrate their competitive strength and ability to meet the stringent requirements of the evolving workplace, as Vietnam integrates economically with the rest of the world.
(Media Center)