DTU Meets with Journalists on the Occasion of Vietnam's Revolutionary Press Day
To commemorate the 90th anniversary of Viet Nam's Revolutionary Press Day on June 21st, an informal meeting was held with local and regional media agencies to thank them for their support to DTU over the past 20 years.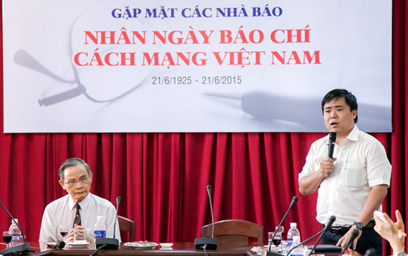 Dr. Vo Thanh Hai congratulates journalists on Viet Nam's Revolutionary Press Day
Dr. Vo Thanh Hai, DTU Vice-Provost, congratulated the journalists and summarized DTU's many achievements, including the improvement of the quality of education and the enhancement of broad-based research, together with the increasing publication of international research papers. DTU has entered the top twenty universities with the most publications in ISI-indexed journals in Vietnam, recently listed by the Department of Science and Technology at the Ministry of Science and Technology. In the month of February 2015 alone, according to Webometrics, DTU ranked sixth in Vietnam. The Association of Universities and Colleges of ASEAN (P2A), founded in 2012 by five universities, including DTU, has now expanded, with over 45 ASEAN member universities and colleges. In May, DTU, in collaboration with the Institute for Southeast Asian Studies of the Vietnam Academy of Social Sciences and the P2A, hosted the fourth P2A Partner Meeting and an international seminar entitled: "The ASEAN Community After 2015: Opportunities and Challenges".
In 2015, the university has already held two jobs fairs for the first time. In the near future, DTU continues to expand various training and research activities into 2015-2016.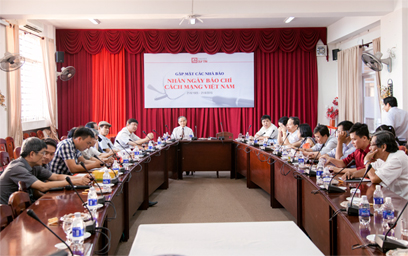 Journalists at the meeting
Mr. Ho Duy Le, a former Chairman of the Literature and Arts Association of Quang Nam province, said: "We have kept track of and supported DTU since its inception and are delighted at what DTU has achieved so far. By overcoming countless obstacles and challenges, DTU has proved its strength and constantly evolved to meet the requirements of the national education system. This demonstrates the steadfast spirit of Distinguished Teacher Le Cong Co and all DTU lecturers and staff. Over the years, DTU has provided our community with thousands of qualified graduates to meet the increasing demands of the workforce and affirmed its objective of integrating into the rest of the world."
Through this annual meeting, DTU wants to strengthen its relationship with the media and receive constructive suggestions about how academic programs can be further developed, to steadily improve the standard of education at DTU.
(Media Center)