The First Year of Development at the DTU Microsoft Center
In order to develop software applications for Microsoft Vietnam and meanwhile to serve as an incubator for technology research by students, the Microsoft Center at Duy Tan University (MIC@DTU) is evolving into an attractive destination for national and international IT talent. It is becoming an ideal learning venue for avid programmers. After one year of breakthroughs, MIC@DTU is celebrating some impressive accomplishments.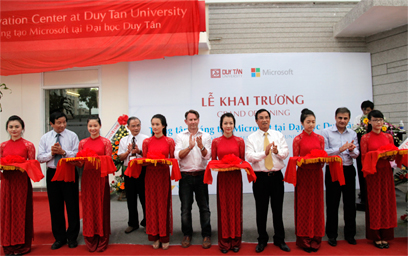 Microsoft Worldwide General Director of Development and Platform Engagement Joe Wilson (center) cuts the ribbon to officially open MIC@DTU
Established on June 9, 2014, MIC@DTU has become the home for a team of over twenty skilled software experts. Many come from major companies in Vietnam and abroad, or are outstanding IT graduates. MCI@DTU has invested heavily to build a broad infrastructure, and, after just one year, has become a state-of-the-art establishment with modern staff offices, practice and training labs for programmers and game development rooms for students. Prerana Bohara, a data science expert from India chose to dedicate her talents to MIC@DTU. She explains, "I chose to work here because it's a very energetic working environment, which suits my professional interests and gives me the opportunity to develop my skills. At MIC@DTU I can relax and feel comfortable, as in a family. My colleagues are always friendly, care about me and work as a team. I hope to have many opportunities to learn and share my knowledge and experience at MIC@DTU and contribute strongly to its growth and success."
The Microsoft application programming projects undertaken by MIC@DTU, such as the TFLAT Dictionary and Learning English through Songs, have been uploaded to the Windows stores, and accumulated very positive reviews from users. Among them, the PhotoBackup app has been ranked with the new and outstanding apps. Several games have been developed at MIC@DTU, such as the P2A Game, with many downloads. This application allows ASEAN students to explore their many different colorful cultures. By way of its training courses and seminars, MIC@DTU has introduced many students to the latest Microsoft technology, such as the Microsoft Azure Developer Camp and Xamarin.
ASEAN teachers and students participate in the P2A Game, organized by MIC@DTU
MIC@DTU has given free programming courses to over three hundred students so far. It has teamed up with the Microsoft Corporation to organize contests to discover and nurture IT talent. This has helped enthusiastic students develop their skills, unleash their creativity and pursue their passion. Examples of these are the Mobile Hackathon, the DTU Innovation Cup and the Hackathon App Studio. As a direct result of these contests, MIC@DTU has completed over one hundred student apps, which have been uploaded into the Microsoft app repository. At the 2015 Microsoft Imagine Cup, organized by Microsoft Vietnam, MIC@DTU supported the EEM team, which had taken first prize at the 2014 DTU Innovation Cup. They went on to reach the second round in the 2015 contest and a ticket to the International Microsoft Imagine Cup in Seattle, US.
Recently, the first MIC Internship program for final-year students in Information Technology, organized by MIC@DTU, drew one hundred and fifty students from schools in the Danang and Hue areas, who signed up for training. The most outstanding trainees will have the opportunity to work as collaborators on projects and be employed by MIC@DTU on graduation.
Visiting the Creativity Incubator on March 15, Professor Anthony Lattanze, Director of the Masters of Embedded Software Engineering program at the Institute for Software Research, was impressed with the software the students were developing at MIC@DTU. He also praised the English language skills and the teamwork and and programming ability of the Danang students, and the DTU students in particular. This confirmed the quality of training at DTU and the quality of the interns in the MIC Internship program.
"After one year of development, MIC@DTU has gained renown in the IT community locally and nationwide," said Mr. Vo Duc Toan, Acting Director of MIC@DTU. "This shows in the quantity and quality of products the Center uploaded to application repositories and in the successes of the student. The Center will broaden its partnerships with business to discover and nurture talent, to create software and apply the most advanced technology to develop projects according to international trends."
MIC@DTU plans to orient itself to the development of apps running on multiple platforms and technologies, accelerating app development and 3D games (combined with AR and VR and interactive virtual-reality technologies), providing solutions and developing optimized software for business and enabling students from the Danang area and surrounding provinces to use the latest Microsoft technology. With a practical development strategy and the hard work of the dedicated team, MIC@DTU will grow ever stronger and achieve even more.
(Media Center)