A 2014 DTU Valedictorian Talks About Her First Year at DTU
With a score of 26.5 on her 2014 DTU entrance exam, Hoai Tram became a Valedictorian at her first choice of university. She was awarded a full scholarship, worth 800 million VND, which covered tuition fees and accommodation to study all the way from a BA to a PhD. She spent an interesting year gaining experience from trips to Singapore, to the 2014 Youth Model ASEAN Conference, and to Quang Nam Province to help poor people improve their traditional craft making through the Learning Express program. She now feels more self-confident to make her ambition: "Travelling a new road that nobody else dares to follow, where nobody has been before" come true. Together with Hoai Tram, we take a look back on her achievements in her first year at DTU and her plans for the future.  
Hoai Tram, on the left, attends the 2014 Youth Model ASEAN Conference in Singapore
Beginning her studies at a private university with some negative feelings, she had to overcome a few initial difficulties. She comes from a poor family and her parents had very high expectations since she became a DTU Valedictorian. But she never regretted anything and never gave up, although she faced a lot of new challenges and temptations as a student. She is steadfast in her decision and knows how to keep pace with her new lifestyle. She has many dedicated teachers and friends with the same ambition to travel all over Vietnam and around the world.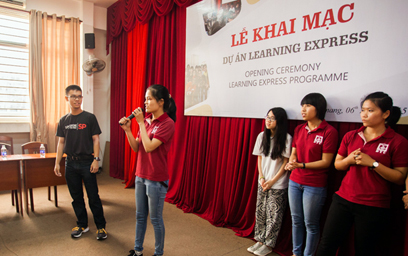 Hoai Tram gives a speech at the Learning Express event at DTU
At DTU, she has given priority to broadening her knowledge and foreign experience and was able to befriend many ASEAN students at the conference in Singapore. With the theme "Voices Today, Echoes Tomorrow", she took on the role of a diplomat of one of the ten ASEAN members and participated in discussions to establish a declaration on how to solve critical topics concerning the environment, economy, society, security and culture. She learnt about how to conduct herself, about community responsibility and forgiveness. 
When she took part in the Learning Express program, she tried hard to do research and offer ideas on how to promote craft production and protection of the villagers' living environment in Quang Nam.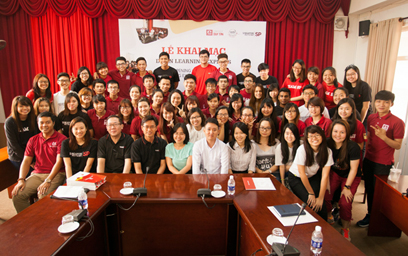 Hoai Tram with students of DTU and Singapore Polytechnic
She was lucky to meet welcoming staff who offered her a strong foundation for a bright future. They were the DTU lecturers she had never met before but they were always ready to help her. Her parents are proud of the opportunities she has had to travel and broaden her experiences. 
People may think that everything is a dream but she is happy and proud. Her parents are proud when relatives compliment their daughter. They say: "You are a great source of pride to our entire family and to Quang Nam Province". An education at DTU has become a dream of the children in her village, a topic for discussion at the village fair, which was never discussed before.  
She always keeps in her mind the advice of her DTU lecturers. She still remembers the moment when Distinguished Teacher Le Cong Co, DTU President and Provost, held her hand and awarded her a Certificate of Merit and a scholarship of 800 million dong. He said: "You are the pride of your family, teachers and friends. You should study hard and make a positive contribution to society!" 
And how can she forget her teacher's concern: "How are you? You don't look well". The love she received from DTU lecturers has encouraged all students to make stronger efforts in study for a bright future. She sometimes wonders whether her parents would have still worried if she had chosen to study at another university instead of DTU, her first choice. Would she just be a normal student without few positive achievements, with no opportunity to travel abroad to broaden her mind? She always thought that she could never find the same opportunities available at DTU elsewhere. 
The upcoming enrollment session reminds her of last year. She wonders if new students will know how to take advantage of this opportunity or follow a more traditional path and become average people. She worries that Vietnam is still underdeveloped and that young people should all do their best to contribute to the country's development. She keeps thinking and thinking. "After the rain there is rainbow, and DTU will become a prime destination for young Vietnamese students. And I am Vo Hoai Tram, a lucky and talented DTU student." 
(Media Center)