Overview
Architecture expertise is vital in the construction and development of technical infrastructure in cities and nationwide. The CSU International-Standard Architecture program teaches the theory, composition and preservation of our architectural heritage, along with the professional skills required in construction architecture, architectural design, building projects, overseeing construction and investment consulting, and encourages the self-study of civil building architecture, interior architecture and planning. The course also includes study of the basic laws relating to construction and architecture, in order implement viable construction projects.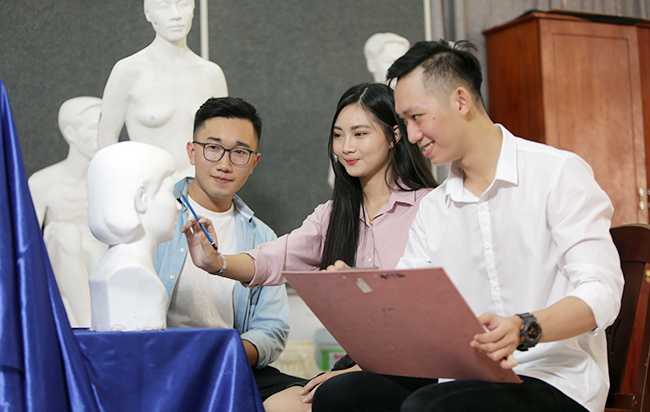 An issue at universities offering an education in Architecture in Vietnam relates to creating appropriate curricula and teaching methods, in order to meet both local social requirements and those required for international integration. To achieve this, DTU chose to partner with California State University (CSU) Fullerton in Construction and Architecture.
DTU partnered with California State University (CSU) Fullerton in their Construction and Architecture program to graduate highly-qualified professionals into the local workforce. It is the first program of its type in Central and Northern Vietnam.
Duration: 4 years
Training program
The CSU International-standard Architecture program at DTU is very different from all the other current Vietnamese programs, because the California State University Fullerton program focuses on learning through practice, consisting of four stages:
- Experience - Based on previous experience and an ability to take advantage of new learning methods.
- Observation and reflection - Observing issues and reflecting on personal or team observations in a workgroup.
- Learning and generalizing - Integrating personal and group observations to deduce more advanced ideas.
- Applying knowledge into practice - Using knowledge to formulate decisions or solutions to issues individually or in a workgroup, in order to reach preset learning objectives.
In addition, the program includes a considerable amount of English language teaching. The first two years are bilingual, with exercises and exams in English, and the next three years are taught entirely in English. Graduates will acquire an international level of English to help them locate careers in foreign companies or projects, or to continue studying abroad.
Working skills
Hard skills:
- Creating architectural ideas and developing them from sketches into technical drawings.
- Working individually or in teams.
- Adapting rapidly to new working processes and operations.
- Conducting research projects individually or in teams.
Soft skills
- Effective written communications, presentations, debating, negotiating, mastering situations. Using modern tools and methods efficiently
- Able to work individually or in teams.
- Foreign language and IT skills:
- Foreign languages: European standard B1 level or equivalent (IELTS 4.5, Toefl 450 PBT, Toefl 133 CBT, TOEIC 450). Able to peruse specialized documentation in English and to communicate in English.
+ IT: B-level certificate awarded by DTU. Proficiently using office software and specialized applications.
Career prospects
Graduates can work in architectural design and planning departments in all business sectors, or for management, educational and research agencies in architecture and planning, locally and nationally.
- Undertake design work or implement designs in architectural design departments, oversee architectural design in construction companies, work on projects related to architectural management and consulting at local government offices, or in private companies, nationally or abroad.
- Own and operate their own companies.
- Continue their studies independently on graduation.
- Take advanced courses, postgraduate studies or pursue a PhD in their field or in a closely related field.