DTU Conferred First Class Labor Order
On November 28, DTU commemorated its 25th anniversary. At the reception, a Presidential First Class Labor Order was conferred by Minister Phung Xuan Nha, a Central Party Committee Member and the Minister of Education and Training. Leaders and former leaders from ministries, local government agencies and the Danang and Central Region Youth Unions shared this happy event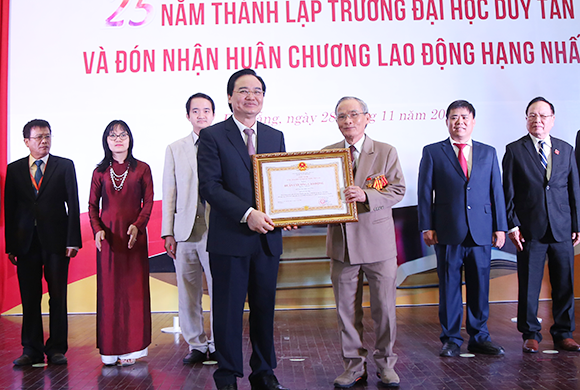 Minister Phung Xuan Nha confering a First Class Labor Order to DTU
Minister Phung Xuan Nha expressed his appreciation of the achievements of the university over past 25 years. He encouraged the university to be even more proactive in increasing the quality of education and research and in helping to educate the general public at the same time. "The university should focus its investments to strengthen several existing majors to enhance its brand image, especially in Network Engineering, Management Information Systems and Health Sciences," he stressed. "It should invest in synchronizing and organizing focused activities aimed at creating an innovative and creative startup ecosystem throughout the university."
Over the past 25 years, DTU has grown into a nationally recognized university, structured around 10 research institutes, 20 faculties and 22 centers of applied research. It offers PhD courses in 3 fields, Master's degrees in 8 majors and 28 majors for Bachelor's degrees, including 3 from international partnerships with four famous US universities, 6 from linked curricula, 3 On-Site Study-Abroad programs in collaboration with US, UK and Taiwan, linking and e-learning programs. The university ceased to offer vocational training, in 2012, and professional Bachelor programs, in 2018.
In 2017, DTU was among the first 20 universities nationwide to receive a Certificate of National Educational Quality from the Center for Educational Accreditation of the Association of Vietnamese Universities and Colleges. In 2019, DTU became the second Vietnamese university to offer ABET accredited courses in Network Engineering and Management Information Systems.
In November 2019, DTU became the first private in Vietnam to join the list of the top 500 Asian Universities, according to QS World University Rankings. DTU ranked in the top four Vietnamese research universities in 2018-2019 and was listed in the Nature Index as one of the ten top Vietnamese universities and research institutions, publishing 2,547 ISI-indexed, fundamental Natural Science papers internationally.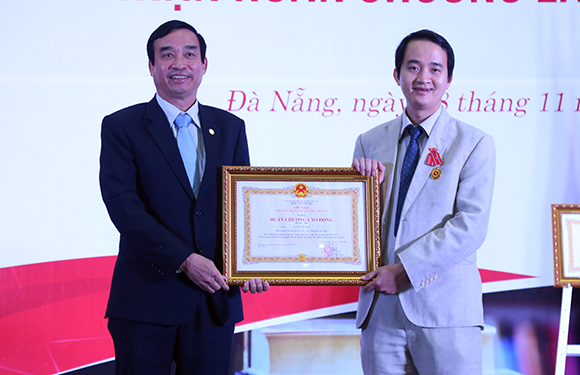 Danang People's Committee Chairman, Mr. Le Trung Chinh, confers the Presidential Third Class Labor Order on DTU Provost Dr. Le Nguyen Bao
DTU received the Presidential First Class Labor Order, for its excellent academic performance from 2014 to 2015 and from 2018 to 2019 and for its pioneering work in the "Innovation and Creativity in Teaching and Studying" program from 2018 to 2019. DTU Provost Dr. Le Nguyen Bao also received a Presidential Third Class Labor Order for his contribution to education and training from 2014 to 2015 and from 2018 to 2019, to the development of socialism and security in Vietnam.
"Looking back over the past 25 years, DTU has faced some severe problems, which sometimes appeared to have no solutions," remarked Hero of Labour, Distinguished Teacher Le Cong Co, DTU President. "Thanks to Party and State mechanisms and policies, and with support from ministries, local government agencies and great teamwork at the university, DTU has become what it is today, I am a soldier who was lucky enough to return from the battlefield, raise a family and found DTU, although many of my comrades died when they were still too young to help restore complete peace and freedom for our people."
"I always advise DTU staff, lecturers and students that they should live the lives of the people and live for the people, which is one of the reasons why DTU is has been developing so consistently. Today, we jointly aspire to DTU becoming a famous university in Vietnam and also worldwide, so that any DTU alumnus can return here and be proud of the place they entrusted to achieve their dreams."
(Media Center)