A Key Economic Decision to Promote Tourism in Danang
On October 22, the Danang Department of Tourism met with DTU to gain a better insight into the government memorandum of January 16 2017, which promotes tourism in Danang and the creation of more jobs for local students. Mr. Nguyen Xuan Binh, Danang Deputy-Director of Tourism, Ms. Huynh Thi Huong Lan, Deputy-Director of the Danang Tourism Promotion Center, Mr. Cao Tri Dung, Deputy-Director of the Danang Travel Association, Mr. Tan Van Vuong, Head of Tourism Resource Planning and Development at the Danang Department of Tourism, leaders of DTU and Hospitality and Tourism lecturers and students attended.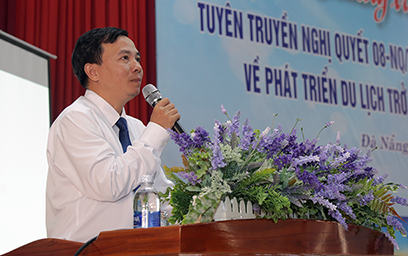 Dr. Nguyen Huu Phu speaking at the event
"DTU has been focused on investing in Hospitality, Foreign Languages and Economics education since its inception, conscious of the importance of tourism in the socioeconomic development of Danang and the Central Vietnam Highlands region," said DTU Vice-Provost Dr. Nguyen Huu Phu. "Every year, the university updates plans to improve this education to meet ever-increasing social requirements. Meanwhile, the university also collaborates with well-known universities worldwide to share established Hospitality programs that are better suited to current practical business requirements. DTU also organizes frequent job fairs, specifically for Hospitality students to meet with local companies and learn more about opportunities related to their interests and skills. At the same time, this also allows those companies to identify outstanding candidates for employment."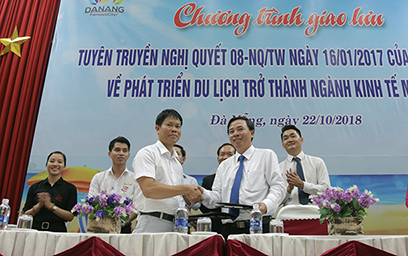 DTU signs an agreement with the Madame Lan restaurant
The 2017 government decision to develop the Hospitality industry as a key economic sector aims to improve professionalism, create a modern, integrated infrastructure and, by 2020, to establish a high-quality Vietnamese tourist brand and products, imbued with the local cultures and competitive with neighboring countries.
By 2030, Hospitality will have become a major contributor to the Vietnamese economy, propelling the development of other national sectors forward and be one of the strongest Hospitality industries in Southeast Asia. To realize this goal, the current philosophy and perception of Hospitality must be changed to guarantee increased professionalism and modern, integrated, sustainable development based on the rules of the international marketplace. Policies and companies must be tailored to attract investment in a refined infrastructure and the promotion of Tourism must be significantly improved.
Danang is a coastal city with several significant natural and human assets and has been investing in Tourism for many years. It is an attractive and hospitable destination that is attracting more and more domestic and foreign visitors. Over the last fifteen years, Tourism in Danang has been developing with encouraging results. The yearly rates of Vietnamese and international visitors has increased by 12% and 10% respectively. Infrastructure, facilities, quality and professionalism are improving at the same time, with upgraded products and services to broaden tourist choices.
The meeting offered DTU students a better understanding on the strategy to develop Hospitality to become a key economic sector and shared their appreciation of famous tourist spots in Danang, such as Monkey Mountain, Ba Na Hills, Non Nuoc Beach and the Marble Mountains. They made suggestions on how to make Danang truly attractive, hospitable and permanent, in order to attract even more visitors and ways of creating more career opportunities for local Hospitality students.
"The meeting taught me more about the importance of my major," explained Duong Thi Sum of K24 DLK18. "I now recognize the wide range of future career opportunities better and can now plan my studies accordingly to reach my personal objectives."
DTU signed a partnership agreement with the Madame Lan restaurant where lecturers and students will be sent to train the staff in foreign languages and provide workers as required. The restaurant agreed to exchange specialized information on their activities and skills in return and take part in the practical training of DTU students, providing them with access to the restaurant for hands-on practice.
(Media Center)