An Agreement with SEIREI on Nursing Education
On October 27, DTU signed an agreement with the Seirei Social Welfare Community, SEIREI, to work together on a Nursing program combining education, career orientation and employment, in order to graduate qualified professionals to meet the increasing international healthcare demands.
The new agreement highlighted the progress of the productive partnership initiated in an original MOU of June 2017, with a second agreement in December the same year.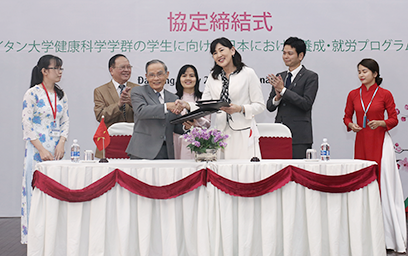 The signing ceremony
Ms. Yuko Kamata, Seirei Managing Executive Officer, said: "After signing the original MOU with DTU, we spent much time discussing sending DTU students to Japan to the Occupational Therapy Department at Seirei Christopher University. Our joint program is unique and will allow students to obtain scholarships to study Japanese and then find jobs in Japan. Our country has an increasingly aging population, so we are already addressing this problem by improving the quality of Nursing education and technology. We will strongly support you in your career ambitions and know that our relationship will progress even further."
In April 2019, Seirei will welcome the first DTU students to Japan. Applicants must obtain a JLPT-N5 certificate in Japanese, complete a 150-hour training course and pass Seirei and Seirei Christopher University interviews.
Successful candidates will receive scholarships of 2,500 million Japanese yen each to study Japanese for the first two years, at the Hamamatsu Japan Language College and nursing at Seirei Christopher University for the final two years. Graduates must then work at Seirei hospitals and healthcare facilities for at least four and a half years, earning an average annual income of 3.2 million Japanese yen, which is the equivalent to 637 million dong.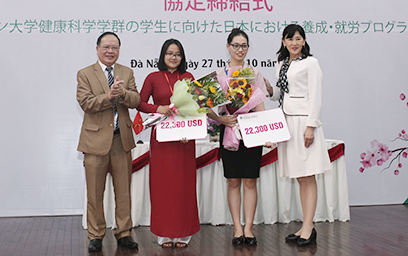 Ms. Yuko Kamata (right) awards scholarships to Doan Nu Nga My (in long red dress) and Nguyen Thi Lan Huong (second from right)
Seirei awarded two scholarships, to Doan Nu Nga My and Nguyen Thi Lan Huong, to study in Japan from April 2019.
Doan Nu Nga My, a Nursing lecturer, said: "This partnership will enable DTU lecturers and students of Nursing to begin working in a truly professional environment. I want to thank DTU and Seirei for this great opportunity to enhance my expertise. We are currently making concerted efforts to improve our Japanese skills to take maximum advantage of this unique opportunity. "
Nguyen Thi Lan Huong is a DTU alumna, who received a Seirei scholarship. She said: "Patient care, especially of the elderly, is a highly specialized field because it requires nurses to be patient, energetic and have a good understanding of their patients' needs, so they must learn and practice continually. I am confident that this new program with Japan will benefit my professional skills to the level that I will soon be able to work well at home or abroad. I want my workdays to be so effective that I will quickly be able to see my patients smiling happily. I have already met nurses from the Seirei Community, found them very enthusiastic and professional and want to match their excellent knowledge and skills. This is why I am really looking forward to this adventure."
(Media Center)