Wiinav App Aiding Social Interaction Wins First-place award at GDG DevFest MienTrung 2018
Dr. Nayyar, a DTU lecturer and this year a mentor at GDG DevFest MienTrung 2018, was moved as the team he supervised won the Community Spirit Award for innovative projects solving social issues such as environmental problems, waste disposal, or climate change.
Each team had nine minutes to present their product ideas and to answer questions from the jury. Projects were assessed based on innovative ideas, engineering, feasibility of the technology, and completeness of product features.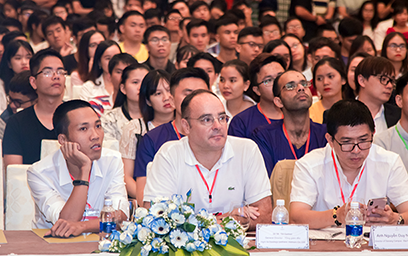 The ideas that were selected for presentation at the Demoday exhibition showed the research, cooperation, and strong commitment to the issues related to turning Danang into a smart city of the young technology community. After 48 hours of continuous programming, the ten most outstanding technology ideas from sixteen DevFest Hackathon groups were selected to be presented with prototype at the Demoday technology exhibition to a team of experts, judges, and over 600 members of the community. Included were a Smart parking solution; an Application for making appointments and getting ordinal numbers at public administrative services; an Application for managing street and traffic lights, and surveillance cameras; and a Tsunami and bad weather warning Application for Fishermen.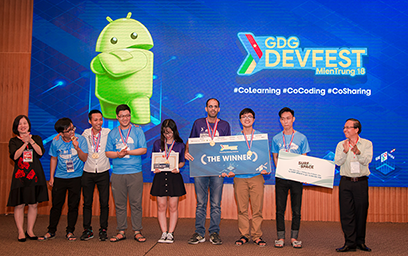 The Wiinav App Aiding Social Interaction Wins First -place prize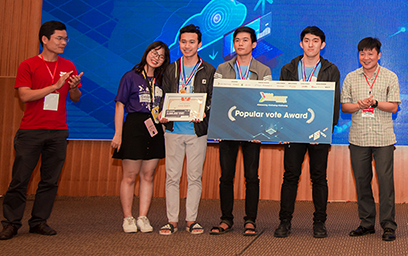 The Smart Traffic Light wins the Popular vote Award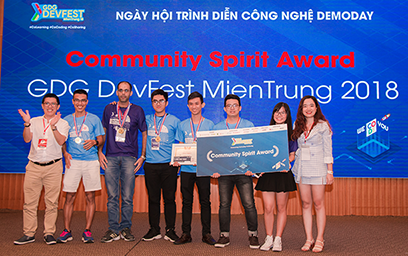 The Smart City Monitoring project wins the Community Spirit Award
DevFest MienTrung 2018 provided a team of over 30 mentors/facilitators giving guidance to the programmers throughout the 48-hour hackathon. This created a strong and connected intergenerational community of programmers while improving the technology, engineering, and feasibility of participating projects. As a result, the products developed for the contest are expected to provide Danang with new ideas for the development of a smarter city.
Ngo Ha Van Dat, a student of the International School and member of the Voting System – Using Smart Contract for Poll Creation team, explained how his team's idea had come into being a long time ago, but had stalled when they had 30% of a finished product. Thanks to the dedicated support of their mentor, their product has developed full functionality and they have overcome errors that can arise during practical use, obtaining a product that is 90% finished.
Van Dat explained: "The three days of the contest with other competitors and highly experienced programmers have been a valuable time for us to experience and learn a lot. A technology product can start from a good idea, but many other elements are needed to turn it into something useable. DevFest gathers all these elements."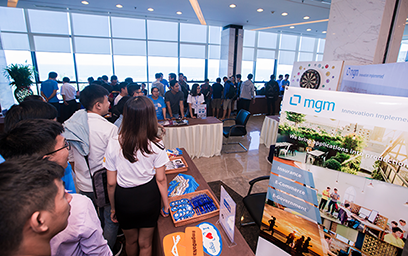 At the DevFest 2018 Demoday, there will still be over twenty stands for the projects and teams of the program, in addition to those of other IT companies like mgm technology partners Vietnam, Phong Vu, and Framgia. The program will also focus on exchange, networking, and recruitment.
(Media Center)