DTU Student Wins 2018 Euréka Research Prize
Le Van Thang, from Humanities and Social Sciences, won third prize in the 2018 Euréka Student Research contest, held in Ho Chi Minh city on November 23 and 24, with his project "Quang Regional Rivers and Sea Folk Songs from an Ecocritical Point of View".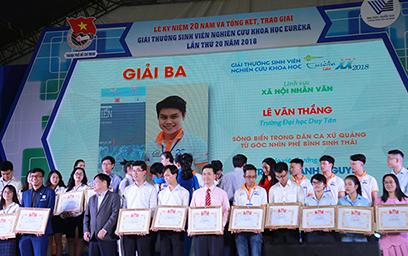 Le Van Thang wins third-prize
The Euréka contest is organized by the Ho Chi Minh city Youth Union and the Ho Chi Minh city Vietnam National University with the aim of promoting student research and encouraging them to creatively develop their discoveries, in order to improve education, build a more interconnected environment and produce practical applications to improve our daily lives.
The event was attended by 2,286 contestants from 106 universities and colleges, submitting 952 papers covering the 12 fields of Social Science and Humanities, Education, Economics, Law, Engineering, Business Planning, Architecture and Construction, Information Technology, Chemical Engineering, Pharmacy, Biotechnology and Medicine, Agriculture–Forestry–Fishery, Environmental Resources and Food Technology. All projects were of very high quality, having undergone a rigorous selection process at the university level and winning the approval of the university science councils.
Although the "Quang Regional Rivers and Sea Folk Songs from an Ecocritical Point of View" project focuses on traditional folk song material, it offers a new interpretation based on ecocriticism, using an interdisciplinary approach that delves into local lore to highlight the influence of ecological conditions on the work, culture and customs of local people. The objective is to propose alternative solutions to that will allow them to live in harmony with their natural environment at a time when climate change is becoming an ever more pressing global issue.
During three years of research the author, Le Van Thang, benefited from the support of Dr. Tran Thi Anh Nguyet, a lecturer in Humanities and Social Sciences, and from the artist Trinh Cong Son, Chairperson of the Danang Bai Choi Club, the Cultural Center of Danang and experts on the Quang Region, who clarified the songs. He also learned from studying Tourism Culture at DTU, which provided him with information on the Quang culture.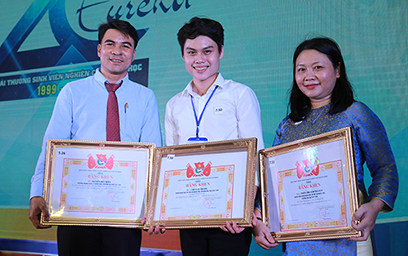 Le Van Thang (center) with his lecturers
"I submitted this project to learn more about new research directions in Social Sciences and Humanities," Thang explains. "I was delighted to find out that my research project was one of the top fourteen selected for the finals, but worried that others came from well-known universities such as the Hanoi National University of Education, the Hanoi University of Culture, the People's Security University, the HCMC University of Social Sciences and Humanities and the Danang University of Science and Education. However, I was lucky, and finished third."
"I will continue researching Quang Region folk songs. Last December, bai choi, or Vietnamese bingo, was recognized as an intangible worldwide cultural heritage, making the protection and promotion of Quang Region folk songs vital. As tourism is now considered to spearhead the economic development of Danang and Central Vietnam, unique touristic products must be exploited to attract visitors from all over the world. So particular attention must be paid to specific elements of the local culture, including ways in which folk songs can be performed to offer tourists additional interesting experiences. I believe that, as modern music is becoming more popular among young people, traditional music is at the risk of disappearing. Hopefully, with this project, I can help young people to understand, love and preserve our traditional musical heritage, as it reflects the cultural values and the spirit of the Vietnamese people, which should be extremely valuable for future generations."
Previously, Thang had many works selected for conferences and published in famous journals, including:
- "Marine and fluvial ecological awareness in Quang Region folk songs", presented at the 5th International Conference on Vietnamese Studies.
- "Marine and fluvial inspiration in Quang Region folk songs from the perspective of ecocriticism", published in the Folklore Journal.,
- "Searching for the sad tunes of folk song lyrics from the marine and fluvial Quang Region", published in the proceedings of the 2017 International Conference on Research and Teaching in Vietnamese Studies,
- "Marine and fluvial ecotourism through Quang Region folk songs", published in the proceedings of the First International Conference on the Sustainable Development of Tourism in Central Vietnam and in ASEAN.
Humanities and Social Sciences
(Media Center)