DTU Advances to the Finals of the 2018 International Go Green in The City Competition
DTU's Energy Loop team won the 2018 national "Go Green in The City" competition sponsored by Schneider Electric Vietnam in July, then progressed to the Asian finals on August 28, where they came in second with a project entitled "A Braking System to convert friction into electrical energy" and advanced to the finals in November in Atlanta, the USA.
The idea came naturally to the team because on motorbike trips to remote areas, they needed to contact their relatives and search Google maps, but their smartphone batteries kept running out. They then realized that motorbike brakes generate heat, due to their friction with the wheel, and they wanted to take advantage of this energy on their travels.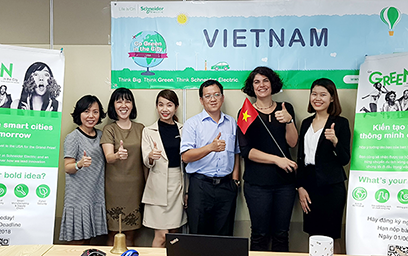 Nguyen Thi Thanh (right) and Doan Thi Thu Ha (third from left)
pose for a photo with the organizers of the 2018 "Go Green in The City"
Doan Thi Thu Ha, a member of the Energy Loop team, said: "After a period of testing, we finished the product on schedule and it met all the specified requirements. The Braking System has three main parts, (1) the brake cable, (2) the dynamo and (3) the power accumulator and is attached to the friction-shoe of the motorbike. When the driver brakes, the dynamo generates electricity, which is accumulated in a standby battery and can then be used several ways. We were ably supported by the Electrical Engineering lecturers."
The Braking System to convert friction into electrical energy project caught the panel's attention and was highly praised for its practicality and safety.
Dr. Ha Dac Binh, Dean of Electrical Engineering, said: "While consulting with the team on project implementation, I found that both of them were skillful and confident pitching their ideas. It was their love of research and hard-work that enabled them to perfect their project on schedule."
The "Go Green in The City" contest has become a major event for young innovators worldwide and attracts a large number of engineering students, who can present their ideas and innovative solutions to develop smarter, more energy-efficient cities.
In recent years, DTU students have won the championships in national Go-Green-In the city competitions, surpassing many strong teams from the Diplomatic Academy of Vietnam, Foreign Trade University, Hanoi University of Science and Technology. In the final round of the 2018 Go Green in the City in Atlanta, Georgia, the USA, the DTU Energy Loop team will compete with 9 teams from the USA, Brazil, German, India, China and Spain.
(Media Center)