DTU Leaders Visit Myanmar
A DTU delegation led by Dr. Le Nguyen Bao, DTU Provost, and Ms. Le Nguyen Tue Hang, DTU Vice-Provost, visited Yangon in Myanmar from January 21 to 24. They visited the Vietnamese Embassy and several high schools there to promote Danang and discuss opportunities for academic collaboration.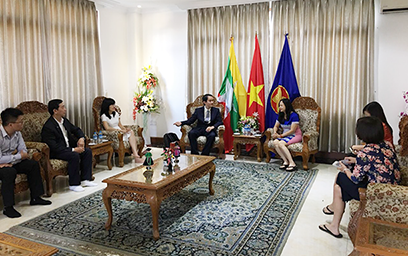 The Vietnamese Ambassador welcomes the DTU delegates
High-school teachers and students in Yangon were interested in the diversified DTU programs, especially the DTU American Degree Program (ADP). The DTU delegates answered questions on job opportunities, scholarship requirements, the study environment and living conditions in Danang. DTU plans to award 10 full scholarships to outstanding Myanmar students who enroll in the ADP Computer Science and Tourism and Hospitality Management program and fifty applicants will soon be interviewed.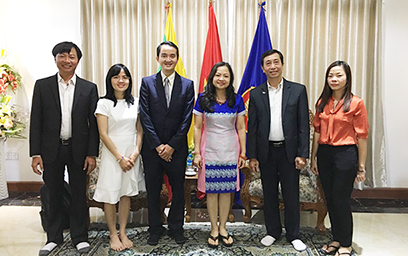 Vietnamese Ambassador to Myanmar, Luan Thuy Duong (fourth from left) and Ms. Nguyen Thi Kim Chung, Second Secretary and Press Officer of Cultural Cooperation and Bilateral Affairs (far left) and the DTU delegates
Ambassador Duong praised DTU's endeavor to enhance cultural exchanges and educational partnerships and, with sustained efforts, she believes they will succeed.
(Media Center)