IT Department Meets with Alumni and Local Companies
On Oct 31st 2009, a conference was held for alumni, enterprises and students of Information Technology at Duy Tan University.
Attending were the Board of Rectors, students and alumni of the Information Technology Department and representatives from the Nuoc Viet Informatics Company, the Enclave Software Company, and the Softech Aptech Center.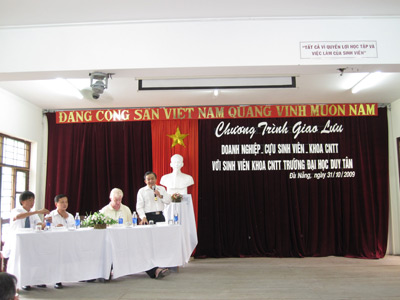 During the conference, alumni and corporate representatives shared their experience on job hunting and the working environment. Mr. Le Hoang Dung, Manager of Enclave Software stated: "English proficiency in the I/T environment is vital in companies today."
On behalf of alumni, Mr. Nguyen Khanh, the Deputy Manager of the Softech Aptech Center said: "Because technology changes continuously and rapidly, you must have a solid foundation of knowledge and learn how to study and adapt to an ever-changing environment".
The conference was aimed to enhance the relationship between the Department of Information Technology and local companies, helping students to improve their study orientation. It also emphasized the great concern of the university about good employment opportunities for students on graduation.
(Media Center)