The Deputy Minister of Education and Training Holds a Working Session at DTU
On October 4th, 2008, Professor Banh Tien Long, Deputy Minister of Education and Training, and his staff held a working session with DTU.
The objective of the meeting was for the Ministry of Education and Training and the Government to review DTU's plans to offer post-graduate programs for Masters degrees.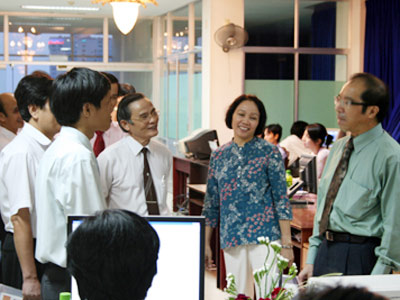 The meeting took place in a genial atmosphere and focused on the main issues. Mr. Le Cong Co, President of DTU and Dr.Vo Thanh Hai, Vice Provost, reported on DTU's educational programs. Professor Long exchanged ideas with the participants and concluded the meeting.
The Deputy Minister praised DTU's achievements so far but set out some new requirements for DTU, offering some important suggestions to help DTU to fully recognize duty and commitments for future development.
"This is my first time attending a meeting to exchange ideas and have such direct discussions and exchanges of ideas. The informed leaders' responses about how their work was going at Duy Tan University left
a deep impression on me", said Professor Long. The meeting lasted for three hours.
(Media Center)

Diep Anh