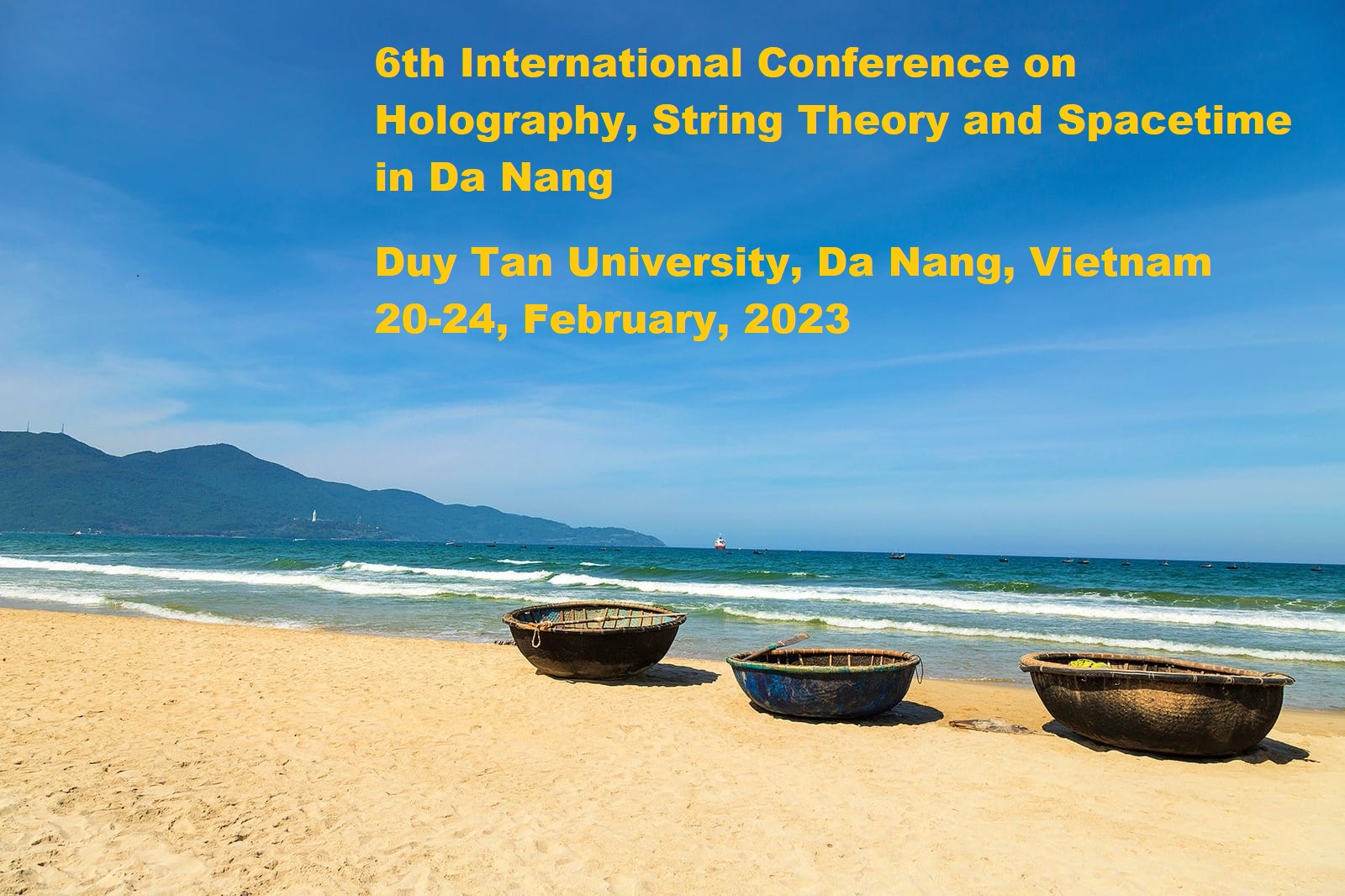 DATE and VENUE
20-24 February, 2023
Duy Tan University
, Da Nang, Vietnam
(Position presented top in google map when search with "Duy Tan University" is
NOT VENUE
; click above for venue)
◦ Room number is to be announced
HOW TO GO
◦ Fly to Danang airport.
◦ Or fly to airport in Hanoi or HMC, then move to Da Nang with train taking 1 day for one way.
◦ Taxi or walk from airport or station.
ORGANIZERS
Matthew J. Lake (NARIT)
Shingo Takeuchi (Duy Tan Univ.)
David Vercauteren (Duy Tan Univ.)
INQUIRIES
Email to <shingo.portable_at_gmail.com>
SPEAKERS
PROGRAM (under construction)
TALK SLIDES
INVITED TALKS
Heng-Yu Chen (NTU): Late Time Correlations in dS3/CFT2 Holography
Yasuaki Hikida (YITP): Exploring 3d de Sitter gravity via holography
Hoang Ngoc Long (Van Lang Univ.): Cosmological Inflation in 3-3-1 models
Chanyong Park (GIST): Holographic RG flow triggered by a classical marginal operator
NOTE
◦ No financial support.
◦ Participation fee for snack and drink is to be announced.
◦ It is appreciated if each participant can bring snack or food for everybody.
◦ Information for excursion is to be announced.
◦ If a sufficient number of participants show interest, we will organize for the conference proceedings to be published in a reputable journal (TBA).
◦
Climate in Da Nang over one year
◦
Previous conferences
◦
Hotels, laundries, cash, excursion, etc
◦
Sightseeing spots